Waterbirth is a method of giving birth in which the mother is immersed in warm water during the delivery process for pain relief. It is non pharmacological pain relief and hence has no adverse effects on the mother or baby. Warm water makes the uterine contractions stronger and more efficient, thus reducing the duration of labour. 
Water birth is beyond the physical aspect of water, it is an attitude to care, an attitude which believes in the normal physiology of labour and the ability to deliver with minimum medical intervention in low risk labouring women. Its an attitude both of the medical personnel as well as the woman in labour.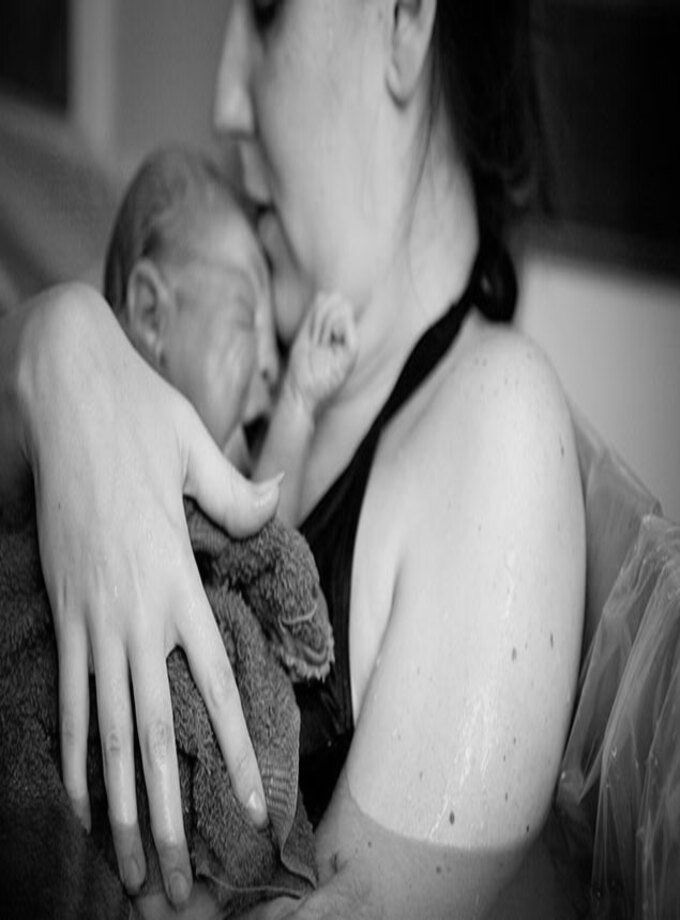 We are one of the only few centers in the world to offer VBAC under water/WaterVBAC
We launched our water birth facility on 20/11/11, very exciting years of learning, caring, sharing, and celebrating.
The day we had an open house on 20/11/11 of the new facility, our first water birth patient was admitted, Krupa, at 11.00 p.m., who trusted us, to embark with us, on our new journey, where none had been before.
She had her bundle of joy, underwater delivery the next day, at 1.30p.m.
All babies who delivered underwater had no serious complications.
Stories from Our Patients
After listening to my cousin & friends I visited Alfa Clinic, Dr.Fathima Ma'am since the beginning of my pregnancy. I had fixed my mind, no matter what I'm going to be under ma'am's guidance throughout my pregnancy tho I was a little scared about the entire process. I must say my 7th month visit to this clinic was simple, the required information & guidance was given, wasn't prescribed or given unnecessary guidance.
Maam was strict throughout my journey. I felt I was under the right hands. I was scared but I believed in her. I made a clinic tour during my 8th month making sure what was available & to be prepared for the unavailable. I had no regrets or complaints as I knew what I was entering into. Unlike big hospitals, I wasn't told to get admitted until I reached active labor. My husband Did a little research on water birth delivery & wanted me to try if I could. Once I was ready, I told her I would go for water birth & it was one of the best decisions I've made. I got scoldings from ma'am throughout the delivery. By God & ma'am's grace, I & my baby are fine.
Thank you Fathima ma'am, you are the BEST. I'd recommend you to whoever asks me. I would recommend a water birth for anyone who wants an easier normal delivery.
R Swathi
First I would like to say that Dr Fatima is a very excellent doctor! I delivered two babies with her help and everything went perfectly.. had a complication free delivery. I would also like to share my water birth experience at Alfa Clinic. Both my deliveries were water birth. I felt an immediate difference when I got in the water tub. I was much more relaxed and felt more in control. I was able to handle the contractions better! I dilated more quickly in water and didn't require any stitches!!
I would recommend a water birth for anyone who wants an easier normal delivery.
Going through childbirth is a mix of immense pain followed by immense happiness. In this journey, the presence of a wonderful doctor ( FATHIMA POONAWALA ) is simply priceless. You are such a wonderful doctor and you always make me feel so safe.
I gave birth to my 2nd son, on Jan 30th, 2023 early morning,my water broke on the 29th evening @4.30. The doctor asked me to come to the hospital, even though it was a Sunday, doctor Fathima Ma'am has come to the hospital just to attend to me, later she used to come n check me up every 2 hours, and all night she waited for me just to fulfill my wish for having VBAC, early morning my pain was unbearable and I opt for water birth, Thankfully doctor took me to waterbirth room and it was such an incredible home birth experience , having the positive water birth of my dreams.
WATER BIRTH was amazing! It is one of the best forms of natural pain relief you can get when you go into labour. Trust me it has great benefits for mom n baby ,after entering the water within 40 minutes I gave birth to my baby. I came all the way from MYSORE, doctor dint send me for any unneccesary tests , scan or check ups ,her experience is tremendous . 
THANKS DOCTOR! For comforting me and taking away all my stress . "I LOVE YOU" & you are my ANGEL
Ashwini S
Dr. Fatima Poonawala has a great team. Very helpful staff. I'm happy my boy was delivered by her assistance. I would recommend her to anyone I know. My husband was allowed with me during the whole process. Thank you ma'am for all the support and care. 🙏
Found Alfa Clinic while searching for natural birthing places in Bangalore. Consulted during our 5th month and we felt more positive and happy after meeting doctor Fathima with her positive and caring approach, compared to our previous consultation at another hospital. We wished our pregnancy be totally natural even with intake of supplements. Doctor accepted our wish after listening to the food/ways I'm going to consume it without tablets. We were very happy with the approach of listening and supporting us.
Each time, I used to have travel nausea after reaching the clinic and once when I see the doctor and listen to her positive words I would become energetic and happier in that few minutes of consultation time. For me talking to the doctor was a dose of positive energy and strength. Amid pandemic, even though our parents compelled to come to Tamil Nadu for delivery as cases were high in Karnataka and I also fell ill during the last month, we refused as we wished to experience our baby's birth at Alfa.
The due date approached, but doctor was ready to wait past the due date as all the necessary parameters such as BP, baby's ECG, fluid level and baby position for vaginal birth was normal. First doctor decided to wait for 40 weeks+3 days. In the next visit since the necessary parameters were normal doctor allowed us to wait for 2 more days. In the next visit doctor decided we would induce if I don't get pain in 2 more days (i.e. once 41 weeks get completed). Got pain at the end of the 41st week and we reached hospital midnight around 2 a.m. Our baby was delivered naturally underwater around 06.17 a.m.
We were very happy that we went through our entire pregnancy period in the way we wished along with the experience of water birth. At the end we felt to be blessed for having Doctor Fathima as our gynaecologist and Alfa Clinic as our birthing place. We were very comfortable with the place of birth as we did not have the feeling of a hospital environment. It felt as a homely place. We feel we are more lucky to have found Alfa Clinic and we recommend the place to our friends so that they also have a beautiful experience as we had.
Dhanasekar S
Click here to read more of such stories on Google Reviews.